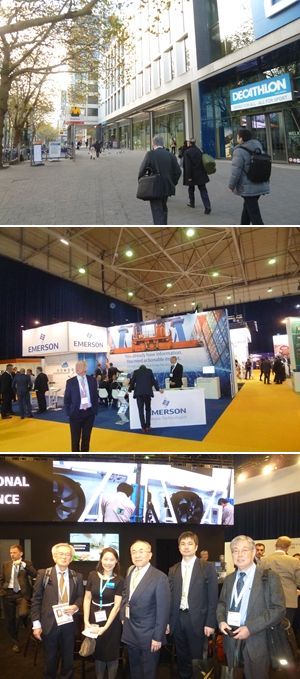 It is 11 hours 40 minutes flight hours from Narita to Brussels. Arrival to Brussels at 15:15. It is the trip of approximately two hours by an IC railroad from there to Rotterdam. There were a couple of troubles we experienced before we got out of Rotterdam station precincts after taking the train from Brussels Airport. We were finally able to reach the hotel somehow. The air-condition in my room didn't work properly for 3 days I stayed so I asked the front to fix it but as a result, I had to go to sleep with wearing the long underpants and thick shirt to make myself warm on the last day.
    I was in Ahoy of the Intermodal Rotterdam meeting place for the first time in 3 years since 2015. EFI participated in with 5 staff including me this year. The origin of Intermodal is Europe. Barge, truck, railroad. I wanted as many employees as possible to experience an atmosphere of Intermodal Europe. Meantime, I could not see either the flooring maker or a unique container folding maker which displayed their products 3 years ago. On the other hand, the new folding container designer introduced the folding method on a video. It is the proposition that it sounds easy but difficult. I eagerly wish a folding container is materialized sometime. As for the major members of Intermodal exhibition company did not change much but the participants have been replaced with a lot of young people.
    Intermodal Europe of the second day was considerably prosperous, and each booths were crowded with many people. It was necessary to walk around in a site with care not to bump each other. There was a big difference compared with the first day. I had an appointment with Chairman Zhang of UES in front of a booth of COA at 3:00 pm. While I was wondering how I could find him in such crowed people a tall westerner was staring at my face and the name tag and he said to me "I read your magazine!", I was so surprised at hearing his saying so. It was the CEO of some machinery maker in UK. I thought that it was good to continue both the container market reports in Japanese and English every month for 9 and a half years when I run across such an unexpected event in the Intermodal site. Mr. Patrick Hick, the COA Secretary General is one of the regular readers. He said that 3 minutes is enough to read my report while I usually spend one day to prepare it. But he cheered me up with referring to the topics in my report making him enjoying in reading my report every month. I was called out to many people about my report there so that I have unexpectedly known this time that many overseas readers are expectantly waiting for my report every month.
    The export from China to the North America is still active by the time of the slow month begins. Each leasing company seem to have been enjoying the high utilization rate like 95~98% at this moment. It is thought that export rush has been accelerated before the tax rate of the sanctions duty will raise from 10% to 25% from next January. Shipping Guide introduces an article of the 6 months forecast prepared by National Retail Federation and Hacker Associates that the number of the import container for retail would be 1,870,000 TEU for Oct (4.3% increase from a year earlier) and 1,800,000 TEU for Nov (4.3% increase from a year earlier) and 1,790,000 TEU for Dec (4% increase from a year earlier). It has backed up the favorableness of the current cargo movement. The spot fright rate from China to North America has been rising. Nikkei reports on Nov. 2 that the freight rate for USWC is about $2,590 per 40f, 2.7 times as high as the lowest of the end of March and it is the highest since Oct 2012.
    On the other hand, the sanctions duty by USA to the Chinese product seems to have pushed the company to begin to move the production base from China. Motor parts, household electrical appliance etc. This is a big chance for the sales section of the shipping line. I believe that if they could quickly catch such movement and could scratch the place where the shipper feels itch they could easily acquire the business. But as for the present force of China it is not thought that it will fall in coming 5 or 10 years.
    The number of the new containers in Chinese factory is 775,880 TEU (including 42,660 TEU of Reefer) in total as of the end of Oct. The new container price is $1,950 per 20f. New container price seems to have been falling according to weaker Chinese yuan. As a result, the big buyer seems to hold off the purchase. I had an opportunity to visit  the office of Ocean Network Express (ONE) during a stay of Rotterdam. They have 240 staff and using 2 floors of a new building. I felt the similar hopeful spirit to them as I felt in the head office of ONE in Singapore.
    ONE is a unification company of each 3 Liner section of 3 Japanese Shipping Lines. It would be said that they are now experiencing to born to one out of 3 companies. I want them to turn their energy outward from inward as soon as possible. Intermodal will be held twice a year, Shanghai in the spring and Europe (Rotterdam or Hamburg) in the autumn. I really think that it is ONE that should dispatch young staff to Intermodal of Spring and Autumn to meet many people of this industry and try to find their position in the industry. It is meaningful for ONE to attend the meeting of Container Owner's Association (COA) held one day before Intermodal Show because the major members consist of shipping lines from large to middle. They could exchange various opinions with many people there. ONE appoints a person of exclusive duty and he is active in officers of COA and wants to play a central role and I want him or her to become one of their leaders of COA if possible. I think that ONE is to be responsible for contributing to healthy growth of world distribution and Intermodal in the world as only one Japanese Liner company.