It was a quiet New Year of 2021 at home. For the past 20 years, it was my annual event to stay in hotel during New Year holidays, leaving the city center. Watching Mt. Fuji from the breakfast hall on the top floor of the hotel, I have a special meal for New Year. However, due to the cancellation of Go to Travel campaign in Tokyo on December 15, I decided to refrain from doing so this year, not to bother medical workers. Thanks to this, I was relaxed for the first time in a while, without being forced to be punctual to breakfast and dinner time, and without visiting shrines or having to follow my wife to attend to the first sale of the department stores. I could review myself during the holiday in a certain sense.
    According to Johns Hopkins University, the cumulative number of the infected in the world exceeded 80 million on December 26, and 90 million on January 10. 10 million people got infected only in 2 weeks. Its speed is astonishing. The number of deaths in the world exceeded 1.93 million. The terrific spread of COVID-19 would not stop.
    Spanish flu 100 years ago, which was also spread by droplet transmission, as sufficient countermeasures was not taken, resulted in a global pandemic. It is said that 500 million people, 27% of the 1.8 billion population in the world at that time, were infected and more than 100 million people deceased. The fatality rate was 20%. In Japan, 390,000 people died. The fatality rate was about 1.6%, considering that the population of Japan then was 57 million and the number of people affected was 23.8 million.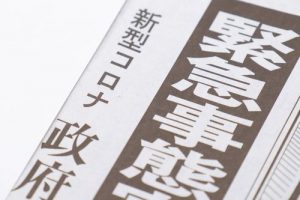 People seem to have difficulty to cope with what they have never experienced. It is difficult to regulate human behavior only by oral message. As a result, the government has not taken effective measures. On January 7, the Japanese government issued the second emergency declaration from January 8 to February 7 to Tokyo, Kanagawa, Saitama, and Chiba, and strongly requested the public to avoid going out after 8 o'clock at night, close restaurants by 8 o'clock at night, and reduce the number of workers going to office by 70%. Our company also resumed Telework from January 12.
    On the other hand, since January 7, the number of the infected in Japan has exceeded 6,000 to 7,000 cases per day. As of January 11, the cumulative number of infected persons has exceeded 280,000, with more than 4,000 death tolls. The virus reproduces with mutations repeatedly. A variant of a new type of corona virus, which is different from those reported in the United Kingdom and South Africa was detected from four people arriving from Brazil to Haneda on January 2. Already 34 cases with such variants have been identified in Japan. If the government is to ask its people to refrain from going out , shouldn't it completely stop travelers from overseas as well? Japan is also under a critical situation.
    In Europe and the United States, tens of thousands of people are infected every day with high death tolls. In Japan, we do not shake hands for greeting, no hug, no peck on the cheek, nor kiss for greeting. In addition, as symbolized by hot-spring, people love to have a bath every day to take away the fatigue of the day and maintain cleanliness. Does such culture as to separate inside life from outside by taking off shoes at the entrance result in this difference in the number of the infected and fatalities? SARS corona virus epidemic in 2003 did not cause deaths in Japan fortunately, but I recall that the name "anti-virus" was in everywhere on all kinds of goods. SARS spread in China, the Philippines, Singapore, Taiwan, and Hong Kong. However, the Japanese government is currently struggling to control the spread of this new-type viruses, probably because of the overconfidence that it suppressed the spread of SARS effectively once. We can reduce the risk not to contact the infected with no symptoms, by avoiding 3Cs (closed spaces, crowded places, close-contact settings), keeping social distance when we have to meet someone, wearing masks, washing hands, gargling, disinfecting with alcohol, ventilating a room, and not going out.
    Now that the infection route cannot be identified in more and more cases, it would be desirable that people, especially young people, should record their behavior for at least 2 weeks so that they can clearly identify who they have met in the last 2 weeks in case they tested positive for coronavirus. By doing so, we can protect someone you care about, and control the infection in Japan to some extent. Our Japanese lifestyle would surely minimize corona virus infection. On the other hand, even if you are young, you should maintain physical strength, and put priority on self-protection, by having appropriate exercises, sufficient sleep, and well-balanced meals. Some say penalties should be set, but voluntary restrictions would be able to alleviate such trend.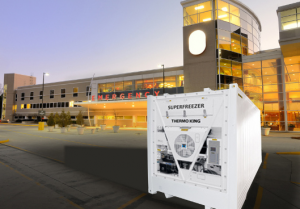 On December 14, Pfizer-manufactured vaccination started in the United States. On January 4, AstraZeneca-manufactured vaccination started in the UK. On January 7, the EU also permitted to market a vaccine made by the U.S. Moderna. The World Health Organization (WHO) approved the vaccine developed by the U.S. pharmaceutical company on December 31, and this has provided the opportunity of vaccination for the whole world. In Japan, Prime minister Suga also announced on January 5 to aim to "start vaccination by the end of February". We, EF-International, as a sales agent in Japan, can provide Thermo King's Super Freezer -70'C for Pfizer's vaccine storage. We strongly recommend to make full use of Super Freezer -70'C, which is suitable for transportation and storage of Pfizer's vaccine in Japan. And we wish this equipment helps to overcome the new corona virus issue as soon as possible.
    According to People's Daily on January 10, 9 million citizens have got China-made vaccines, and no side effect cases have been reported to date. The Chinese government has revealed that 1.4 billion people will get vaccinated free of charge. In any case, a complete revival of the world economy cannot be expected without the control of the new corona virus pandemic.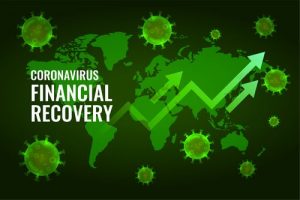 According to the U.S. Employment Statistics released on January 8, the unemployment rate was 6.7 percent, the same as the previous month. However, the number of workers decreased by 140,000 from the previous month. The figure decreased for the first time in eight months since last April. The number of the unemployed was 10.7 million in December. This was also influenced by a reduction in the number of employees in the hotels and restaurants in New York City due to a curfew issued in California in December. Gross domestic product (GDP) in the U.S. increased by 33.4% in the third quarter from the previous year. Growth of 4% can be expected in the fourth quarter. It recovered to 97% level of the ante-crisis one year ago. The economy is expected to recover with a total of $4 trillion of new type corona virus financial support. The stock heigh market supports it. On the other hand, the December business confidence index for manufacturing is at a high level for the first time in two years and four months. Increasing Telework demand does not directly lead to job increase in knowledge-intensive industries in the IT industry. In this sense, the United States seems to be coming to the corner of industrial conversion.
    Pound depreciated in the UK, which completely disengaged from the EU on January 1. Besides, the third lock down is carried out since December 20 due to the spread of new variant corona virus. Forty countries around the world prohibit travel from the UK. The impact of stagnant logistics on the UK economy is unmeasurable. The impact on each country's economy is tremendous because European countries have taken measures to restrict entry to the country in order to control the rapid spread of new corona viruses. For example, a resort in northern Italy is one of Europe's best ski resorts, but the Italian government ordered closure, despite the ski-related industry in Europe reaches 34 billion euros per year (about 4.3 trillion yen).
    If China had not been able to control the pandemic of the new corona virus domestically, the present world economy could not have recovered. In this sense, the rise in freight rates for shipping companies since July last year would not have been realized, nor the current situation in China and Asia where they cannot export due to insufficient containers. The revival of the global supply chain is the result of China's successful new corona virus domestic control.
    China's new container inventory at the end of December 2020 was 231,674 TEU (Dry: 183,868 TEU, Reefer: 48,806 TEU). The price of new containers was $3,200 per 20f. The total number of newly built containers in 2020 was 3,012,312 TEU (Dry: 2,714,090 TEU, Reefer: 298,222 TEU), exceeding 3 million TEU.
    While Chinese container manufacturers are increasing their production capacity, they have stopped extending operation hours, and are in a wait-and-see mood. It is said that there is no space left in their production line until February 12 when Lunar New Year begins. Therefore, even if ordered now, delivery will be in July for Dry containers and in May for Reefers. The price is estimated to be $3,500 per 20f for Dry containers. Anyway, container manufacturers are calmly watching demand trend that it will depend on the price of steel products.
    Spot freight rate was over $4,000 per TEU for Europe from Shanghai, about $4,000 per FEU for the west coast of North America, $4,700 per FEU for the east coast of North America, $8,173 per TEU for South America, $6,072 per TEU for East and West Africa, and $3,158 per TEU for South Africa, all soaring up.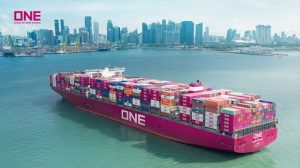 In addition, in order to prevent rise of ocean freight due to space shortage, shipping companies will deploy more vessels compared to last few years by easing outbound suspension ratio in their main East-West routes in Pacific and European lines to 1.7% in February and 0.6% in March, compared to 19.9% and 9.4% respectively in the previous year. In the second quarter (April-June), normal number of vessels will be operated, the space issue is expected to be drastically resolved.
    On December 24, the news of Ocean Network Express (ONE) came in that they ordered six 24,000TEU mega-container ships. The construction will be completed in 2023-24. By this news, shippers and relevant parties are convinced of ONE's enthusiasm as a shipping line.
    From last March to June, when the first emergency declaration was issued, my weight increased by 5kg, from 70 kg to 75 kg, so, once the declaration was lifted, I went to gym twice a week after work from July last year, and managed to reduce my weight back to 70kg. However, I have intentionally suspended to go to gym since last December. Considering the hardness and effort I have to make to lose weight, I should have the strong will against sweets that lure me to get away from the stress under which I am placed.
(Translated by Ms. Chizuru Oowada)