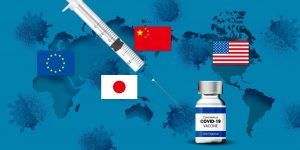 The Ministry of Transport of China has announced that the total number of passengers for 40 days before and after the Chinese New Year on February 12th will be 1,152 million. Chinese New Year is the most important event of the year for Chinese people to spend with their families. Migrant workers return home from big cities. This year, the government has requested to refrain from returning home and restricted the use of public transportation in order to prevent the recurrence of COVID-19 pandemic, so it is likely that more migrant workers will return to their hometowns by motorcycles, which is a seasonal feature of Chinese New Year.
    According to the announcement dated February 10th by China Association of Automobile Manufacturers (CAAM), vehicle sales in January is expected to increase by 31.9% year-on-year to 2.54 million units, out of which passenger car sales will increase by 28.4% to 2.07 million units. January sales of Japanese automobile manufacturers are 189,500 units for Toyota. This is the highest monthly sales ever. It has exceeded the previous year's record for 10 consecutive months. Nissan also increased its sales by 23.8% in January to 146,245 units. Honda's sales were 157,457 units, 4.8% up, an increase for 7 consecutive months. On the other hand, Mazda's sales were 20,634 units, 1.6% down. Mitsubishi Motors' sales were 8,769 units, 8.4% down. China Association of Automobile Manufacturers (CAAM) expects vehicle sales in 2021 to increase by 4% to over 26 million units and new energy vehicle (NEV) sales to increase by 40% to 1.8 million units.
    The 2020 trade statistics released by the US Department of Commerce on February 5th shows that the huge fiscal measures of 3 trillion dollars against COVID-19 and expenditures from staying at home boosted imports in the latter half of the year, which resulted in the record high trade deficit of 904.94 billion dollars, 5.9% increase from the previous year. It was a negative growth throughout the year, but we can see that it recovered rapidly in the second half. We can easily imagine how the stay-at-home consumption played a major factor of recovery. The US economy maintained positive growth from October to December.
    The number of employees in the non-farm sector in January's employment statistics released by the US Ministry of Labor on February 5th increased by 49,000 from the previous month, and the unemployment rate improved by 0.4% to 6.3%. Gross Domestic Product (GDP) has recovered to almost pre-crisis levels. Imports are expected to remain strong in 2021 as well. If Congress realizes the additional fiscal measures of $1.9 trillion including the Biden administration's additional cash benefits, it will undoubtedly boost personal consumption expenditures and corporate investments.
    Shipping Guide on February 10th quotes the National Retail Federation's (NRF) forecast for six months ahead. January 2021 is expected to reach a record high of 2.08 million TEU, which is 14.6% up from the same month of the previous year, surpassing 1.89 million TEU in January 2019. In February, it is expected to maintain an exceptionally high level of 1.91 million TEU, 26.3% up. Imports decrease due to Chinese New Year holidays every year, but the suspension of China's production activities this year is expected to be limited, and many container ships are currently anchoring off the west coast of the United States, waiting for their import cargoes to be discharged. It is expected to be 1.93 million TEU in March, 41% higher than the same month of the previous year as a reaction against COVID-19 pandemic. It is forecast to be 1.82 million TEU in April by 13.3% up, 1.9 million TEU in May by 23.8% up, and total 11.5 million TEU in the first half of 2021 by 22.1% up year-on-year.
    In the United States, the number of new infections per day, which reached 300,000 cases in early January, fell below 100,000 cases on February 7th. The number of infected people is decreasing, vaccination is progressing, and the US states are also loosening the regulations with the expectation that COVID-19 will go down toward the summer.
    Statistical Office of the European Communities announced on February 2nd that real gross domestic product (GDP) for the October-December period of 2020 fell 0.7% from the previous period, falling to negative growth for the first time in two quarters. This derives from the lockdown in Germany and France that was introduced to prevent the spread of COVID-19. As a result, the number of newly infected people in Europe has decreased significantly this year. In the UK, the number of new infections per day exceeded 60,000 cases for a while, but it dropped sharply to about a quarter, and schools will be resumed from March 8th. The number of infected people is also decreasing in Germany and Italy. On February 10th, Germany has decided to continue the lockdown until March 7th, whilst allowing hairdressing saloons to open their shops from March 1st, and schools to gradually resume in each state. Italy has begun to deregulate restaurants in Rome and Milan on February 1st. Each country has started to find a way to gradually regain normalization.
    Container freight from Shanghai announced by the Shanghai Shipping Exchange on February 5th remains at high level, with $4,324 per TEU for Europe, $4,332 per TEU for the Mediterranean, $4,076 per FEU for the west coast of the United States, and $4,800 per FEU for the east coast.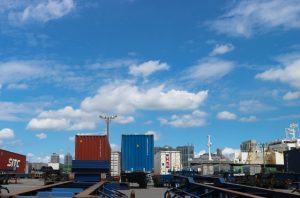 The shortage of containers in China and Asia has not been resolved, and shipping lines are making efforts to re-position the surplus inventory in Europe and the United States by deploying temporary vessels and special vessels into service, but because of the shortage of port workers due to countermeasures against COVID-19 infection and lockdown, the problem of ship congestion waiting for cargo handling at major ports in North America has not yet been solved, and the issue of stagnant containers is likely to take more time to be resolved. In China and Asia, the situations are that they cannot export due to lack of containers, rather than due to lack of vessel space.
    The price of a new container in China at the end of January 2021 is $3,500 per 20f. The factory balance of new containers is 216,692 TEU. It was $1,850 in January 2020 a year ago. The price has increased by about 1.9 times. We may have to say that it is the highest price ever in the last 10 years. The current price of $3,500 per 20f is about 1.1 times the price of the 40f HC a year ago. The current price of 40fHC will be over $ 6,000. It seems that each factory is in operation by shortening the holidays in order to fulfill the current orders. At this price, leasing companies will have to refrain from speculative purchases. However, if the shipping companies cannot take back containers from the surplus locations in a timely manner, they will have to continue to rely on the new containers from the leasing companies, but some shipping companies use a part of the profits earned from soaring ocean freight to purchase their own containers. As a result, the container price seems to be stable at a high level. The total production of new containers in January was 503,745 TEU.
    On February 2nd, the Japanese government postponed the state of emergency for 10 prefectures by one month until March 7th. Included in 10 prefectures are Tokyo, Kanagawa, Saitama, Chiba, Aichi, Gifu, Osaka, Kyoto, Hyogo, and Fukuoka. The number of newly infected people in Japan has been declining since January 9th, with 7,855 cases, and 77% down with 1,826 cases as of February 11th. 400,000 doses of Pfizer vaccine have arrived from Belgium on February 12th, and medical staff will be vaccinated from February 17th, at last.
    It seems that the number of new infections is decreasing worldwide, including Japan, and economic activities are gradually returning to normal. This is good news for Tokyo 2020 Olympic and Paralympic Games, which has been postponed for one year due to the COVID-19 pandemic. I feel that this global event which gives hope and courage to people around the world is becoming a reality. However, in the current chaotic situation where Mr. Yoshiro Mori, chairman of the Tokyo Organizing Committee for the Olympic and Paralympic Games, has been forced to resign due to sexism row, we only pray that an appropriate leader is elected in a timely fashion and that Tokyo 2020 Olympic and Paralympic Games will end successfully.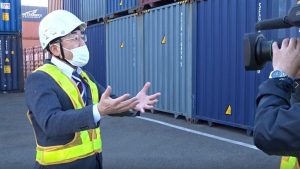 In December last year and February this year, there was an unexpected event for EFI. As a Japanese agent of Thermo King, General Manager Mr. Tsunazawa introduced our Super Freezer -70℃ on TBS "Asachan" on December 8th for the feature that it can go down to -70℃ to cater to transportation and storage of vaccine. On February 13th, Manager Ms. Oowada explain about Super Freezer -70℃ on TV Asahi "Weekly News Leader," which aired on February 13th at 7:00 am. It was impressive that she gave a convincing explanation of Super Freezer -70℃ to the reporter Mr. Joshima, TOKIO's leader. These location shootings are all supported by Ryukyu Kaiun and Okinawa Kyuso, who were willing to lend their Super Freezer, and Isewan Kaiun, who provided an interview location in Aomi, Tokyo. I would like to take this opportunity to thank them again.
    I also had an interview for TV TOKYO "WBS" about "global container shortage", at 3:00 pm on February 9th at Sumitomo Warehouse container depot in Honmoku, Yokohama, which we use as UES leasing depot. They read my comment article on Nihon Keizai Shimbun on October 24th last year, and requested me for an interview. My interview was on air at 11:00 pm on the same day. It seems that many people watched the program despite the late-night broadcast, and I was told from many customers and friends "I saw you on TV!". I felt once again the great influence TV programs have.
    Besides this monthly container market report, I started YouTube this January, which covers hot topics of the time. Although EFI is a small company, I would like to continue to dispatch my messages not only to Japan, but also to the world.
(Translated by Ms. Chizuru Oowada)