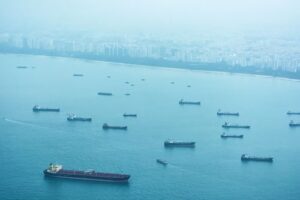 According to information from Ocean Network Express (ONE), on the West Coast of North America as of October 1st, 65 vessels are waiting for berth at the ports of Los Angeles and Long Beach, 12 vessels at the ports of Seattle and Tacoma, and 3 vessels at the port of Vancouver. On the East Coast of North America, 26 vessels are waiting for berth at the port of Savannah, while the Port of New York and New Jersey is experiencing more severe congestions, and disruptions at major inland rail ramps remain serious due to shortages of chassis and trucks. The number of days waiting offshore on the West Coast ports is 7-12 days in Los Angeles and Long Beach, 18-21 days in Seattle, 3-5 days in Vancouver, and, on the East Coast ports, 2-3 days in Philadelphia, 2 days in Miami, 6-7 days in Savannah, and 2-4 days in Houston.
     The number of ships waiting offshore in China is greater than that on the West Coast of the U.S., reaching up to 154 container vessels at Shanghai and Ningbo as of the end of September. The number of container vessels waiting offshore in all ports of China has risen to 242, and the congestion exceeds that on the West Coast of North America. Also, there were 427 vessels waiting for berth around the world as of late September, 14% up from 376 in early September. It is clear that logistics are stagnant at ports all around the world. According to an article in the Shipping Guide, this is equivalent to the loss of 3.1 million TEUs, or 12.5% of the world's container vessel capacity, due to offshore waiting and schedule delays caused by congestion in August. The loss is equivalent to the absence of either COSCO Shipping (vessel capacity 2.96 million TEUs) or CMA-CGM (vessel capacity 3.05 million TEUs).
     Sea-Intelligence, a Danish shipping research firm, predicts a 16% to 17.3% year-on-year increase of vessels deployed in Northern European routes in the fourth quarter, but 12.9% of total volumes will be offset by congestion in Norther European ports.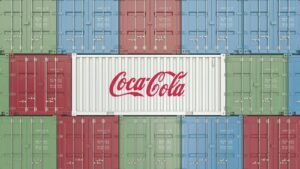 In order to avoid supply chain disruptions and skyrocketing container freight rates, major shippers are starting to assign their own vessels. Major shippers such as Walmart, Target, Home Depot, Amazon, IKEA, and Costco have chartered container vessels and embarked on ocean transportation by themselves. Coca-Cola, one of the largest beverage manufacturers in the U.S., has chartered a bulk carrier and started its own transportation. The aim is to take advantage of unloading at uncrowded ports and to avoid paying high demurrage and detention charges at container terminals. The severe situation is the same in Japan, where vessel space allocated by container shipping lines is limited and expensive, and some NVOCCs are now chartering their own container vessels to secure space for their customers. Japan Trust plans to allocate some spaces of multi-purpose vessels to transport cargo from Japan to Houston via Korea and China every month.
     Existing shipping lines are also beginning to expand their services. HMM, the Korean shipping line, is operating a number of extra vessels to support Korean shippers, and is operating dozens in N.A. routes. It is also considering to start a new service on the East Coast of South America later this year on its own. TS Lines, the Taiwanese shipping line, started new services in the New Zealand and on the West Coast of North America in late September and October, respectively. On the other hand, some companies from other industries have entered the container shipping service: An Alibaba Group shipping line launched its first vessel at the end of September in China, Southeast Asia and the West Coast of North America, aiming to expand its global service. CIMC, a Chinese container manufacturer, will enter the liner service in the China/North America West Coast route. The container freight rate market is expected to remain high for more than six months, but some people in shipping industries have pointed out that their approaches will be a risky investment considering the high charter rates over a long period of time.
     Some countries have even started to enter the container shipping business. The Thai government has announced that it will establish a state-owned shipping company called "Thai National Shipping" in June next year, in which the Port Authority of Thailand (PAT) will hold a 49% stake. In addition to increasing shipping revenues, the company aims to reduce dependence on foreign companies, lower logistics costs, and strengthen Thailand's export competitiveness.
     According to the September employment data released by the U.S. Department of Labor on October 8th, the number of nonfarm workers increased by 194,000, less than the market forecast of 490,000. The unemployment rate, however, improved to 4.8% from 5.2% in August, falling below 5% for the first time since March 2020. The six-month forecast by the National Retail Federation (NRF) is 6.7% increase in September to 2.25 million TEUs, 0.3% decrease to 2.21 million TEUs in October, 2.9% increase to 2.16 million TEUs in November, and 0.2% decrease to 2.1 million TEUs in December. It will be increased by 5.7% year on year to 2.17 million TEUs in January 2022, and by 1.4% year on year to 1.9 million TEUs in February. Consumers have a strong purchase intention.
     The Nihon Keizai Shimbun (Nikkei) reports that the number of new cases of the COVID-19 worldwide is declining in 120 countries and regions, and there are signs that personal consumption is recovering in Europe and the U.S., and that the retail and restaurant industries are gaining momentum. The number of flights departing from international airports has recovered to 60% in Europe and North America compared to the pre COVID-19 period of October 2019, according to the report. We believe this is a result of mass COVID-19 vaccination. In Japan, the infection rate is also dropping rapidly. According to the results of vaccination announced by the government on September 30th, 70.0% of the total population has been vaccinated once, and 59.3% of the population has completed the second vaccination. The vaccination rate is increasing day by day.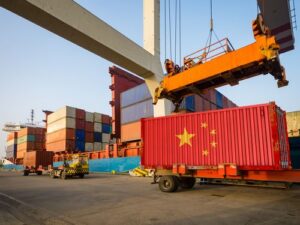 There are only two ways to get out of the current situation where containers are stagnant around the world.
The first is to improve the efficiency of port and inland transportation. However, the consumption demand under COVID-19 in Europe and the United States is remarkable. In such situation, it is unlikely that operations will improve dramatically in European and N.A. ports and in the U.S. inland truck and rail transportation. Then, all we can do is to reduce exports from China and Asia? China has the solution. ASEAN, which succeeded to control the COVID-19 infection last year, has been exposed to the furious delta variant this year due to the delay in vaccination, and since mid-June, economic activities have been stagnant due to strict regulations, factory shutdowns, and city blockades in order to control the infection. On the other hand, China, which successfully prevented the spread of the CIVID-19 through strict control, has taken the roll to manufacture for ASEAN industry.
     The Chinese government has made a commitment to the world on the issue of climate change, to "reduce CO2 emissions to zero by 2060". The Beijing Winter Olympic and Paralympic Games will start on February 4th, 2022. During the Games, providing beautiful blue skies scenery and clean air without smog in the host city, Beijing, as well as in other major cities such as Shanghai, is the best way to show China's seriousness. In the midst of this dilemma, coal-fired power plants, which account for more than 60% of China's electricity supply, are facing business difficulties due to soaring coal prices, worsening the power supply situation. As a result, two-thirds of China's regions are experiencing power supply restrictions and factory operations have been suspended.
     Container freight rates from China fell down sharply before China's National Day vacation. 40F spot freight rates to the West Coast of North America dropped from $15,000 to $8,000-$9,000. 40F spot freight rates to the East Coast of North America fell from $20,000 to $15,000. This is because of the power shortage, which has caused major delays in production schedule in manufacturing facilities. As a result, cargoes scheduled for loading were not delivered in time and cancellations continued to occur. Then, forwarders sold their space, which were originally secured for their actual shippers, at a discount to fill the space.
     It is no exaggeration to say that it is in China's hand that there are recovery of the world economy and world supply chain under the situation of stagnation of global logistics and the shortage of semiconductors.
     New build container price at the end of September was $3,950 per 20f, unchanged from last month. The number of new containers manufactured in September was 670,402 TEUs (Dry: 651,070 TEUs, Reefer: 19,332 TEUs), which was the second largest production month of the year after August. Factory inventory at the end of September was 477,494 TEUs (Dry: 375,550 TEUs, Reefer: 101,944 TEUs), an increase of 11,352 TEUs over last month.
(Translated by Ms. Chizuru Oowada)